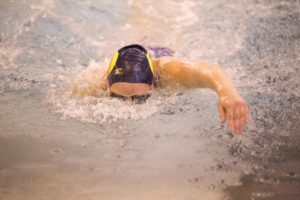 The DePauw University men's and women's swimming and diving teams had split results against Albion College and Washington University in St. Louis this past Saturday.
Both Tiger teams beat Albion and fell to Washington-St. Louis, transitioning to 1-2 on their seasons. The men's team, ranked 13th in Division III, powered over Albion with a score of 175-122. However, they fell short to seventh-ranked Washington-St. Louis 195-93. The women's side, ranked 16th in the nation, also topped Albion with a score of 164-117, but lost to 199-93 to Washington-St. Louis.
Junior Kurt Swieter had an impressive weekend, collecting two wins for the Tigers as he finished first in the 200-yard freestyle (1:43.72) and the 500 free (4:47.0). Additionally, he placed second in the 100 free (48.00).
Junior Mitch Davis placed second in the 100 breaststroke (59.67) and the 200 breast (2:01.26). First-year Charlie Bates also nabbed silver in the 1,650 free (16:59.49) followed by teammate junior David Freund who earned third (17:21.64).
Junior diver Eric Addy placed third in one-meter diving (247.45 pts) and fifth on the three-meter board (203.60).
Standout senior Angela Newlon set a pool record and NCAA "B" time finishing with a time of 4:33.28 in the 400-yard individual medley. She also earned gold in the 200 butterfly (2:08.72).
"It is really encouraging seeing fast swims in season to prepare the team for the bigger meets coming up," said senior Kirsten Olson.
Sophomore Mary Woods brought in another win for DePauw, touching first in the 200 breakstroke (2:30.24), while first-year Shelby Whitt placed second in the 1,650 free (18:38.63).
Senior Annie Graves, Woods, Newlon, and first-year Olivia Neff came together for a 200 medley relay, earning second with a time of 1:51.19. The 400 free relay of senior Ellen Riehle, Olson, first-year Allison Lund, and Woods came in second as well at 3:43.68.
Sophomore Elaine Davis placed second in one-meter diving with 216.30 points.
"Coming off a week of hard training, we faced two top tier D3 teams and I was very pleased with the team's performance and morale," Swieter said. "Personally, I had one of the best in-season (non-taper) meets and dropped some times that I normally wouldn't see until I was shaved, tapered, and in a racing suit."
Sophomore Trey Berry looks ahead at preparing for upcoming competition. "In the pool, we will not be doing any special preparation for this meet, keeping practice times and intensity consistent with the rest of the season," Berry said. "Out of the pool, however, we are preparing by keeping a closer eye on how much sleep we're getting and what kind of food we're eating. It's the little things like those that will give us an edge."
Despite the loss to Washington-St. Louis, Woods was not deterred and optimistic for the rest of the season.
"At this point in the season it can be hard to compete since everyone is tired and we aren't competing on any rest; so beating Albion was good for us," Woods said. "We weren't expecting to beat Washington University and actually were pretty surprised about how well our relays faired against theirs, especially the 200 medley relay."
The home meet was the first for women's head coach Shea Davisson who was hired in August after former coach Ben Hewitt resigned.
"Coming back to school not knowing them was kind of daunting, probably more so for the incoming freshmen," said senior Maggie Lomasney. "Shae and Jim (assistant coach) have also been doing a great job of communicating with every one of us swimmers to make sure we're all on the same page. Regardless of knowing them since beginning school this year, they're doing a phenomenal job working with us and I think as a team, we're excited for the mid-season meet and the rest of the season to come."
The men's team competes at Wabash College on Friday, Nov. 4, while the women pick back up on Nov. 18-20 at the Phoenix Fall Classic hosted by the University of Chicago.