DePauw Football requires the help of a plethora of individuals in order to maintain its daily operations. Many of these figures are students who work tirelessly to push the team.
In the aftermath of their last Monon Bell game, here are a few seniors who have been committed to the team throughout their tenure at DePauw and have been essential in keeping the program chugging along.
Dominic Miranda: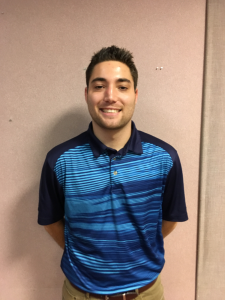 Senior Dominic Miranda works as a broadcaster for the team while also helping to manage the team's social media accounts with fellow senior Nate Spangle.
"I love doing it, it's awesome, it's what I want to do" said Miranda. He explained that the work he's doing with the team aligns with his career aspirations in media. "I've always known I wanted to do broadcasting" Miranda said.
Miranda, who played on the team before getting injured, said that his time on the team enhances his broadcasts. "It makes the broadcast more knowledgeable for the listener and a better experience for the listener" said Miranda.
"My favorite parts are just talking about guys I know, seeing how they do, and being able to convey my knowledge to the listener" Miranda said. "I love to talk and I love to talk about sports"
Head Football Coach Bill Lynch remarked on the help that both Miranda and Spangle provide for the team. "They've been really loyal supporters of the program for four years" said Lynch.
Andrew Bichey:
Senior Andrew Bichey helps out as a student coach for the team, setting up practice plans, making sure equipment is ready for coaches and running the scout team to help out DePauw's defense.
Bichey, a former player on the team, adopted his current position after getting injured over the summer. "I still wanted to be a part of the team and a part of DePauw football" said Bichey.
"The experiences and the stuff that I've learned while being a part of that team have been invaluable to me" Bichey elaborated, saying: "I've always loved football, I've always played football, and I didnt want it to be over based off of just an injury."
On his time as a student coach Bichey said "I've enjoyed every second of it. I've still been able to feel like I have contributed something that's helped the team out and helped the team win" said Bichey.
Coach Lynch complimented Bichey's character saying: "He's well respected, hardworking, and very intelligent." "[He] really has immersed himself as one of our coaches" added Lynch.
Megan Mannering: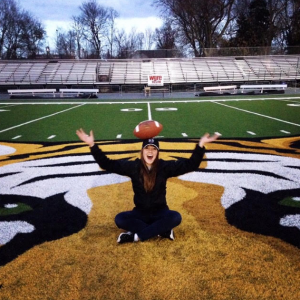 Senior Megan Mannering is one of the team's two senior managers, the other being Yensuahte Sawyer, who in addition to recording practices for the team, carries on plenty of odd jobs for DePauw football.
"It's a lot of running around–running errands for the coaches" said Mannering. She explained the day-to-day issues she rectifies such as broken helmet straps and forgotten jerseys.
Mannering mentioned that she has a long history with football as her dad is a high school football coach and two of her brothers are coaches at the college level with one working at DePauw.
On what she enjoys about her position Mannering said, "I love the atmosphere, just being on the sidelines during the game" adding "I don't think I could ever watch a football game from the bleachers because I get way too into it."
Manner mentioned that she enjoys the comradery that comes with her position. "I like feeling like I'm a part of a team, a part of this organization where everybody's working together" said Mannering, "[It's] just overall a very cool environment to immerse yourself in."
Coach Lynch credited Mannering for her loyalty and great work ethic. "Megan has certainly taken a leadership role" said Lynch. "She's been very proactive with what she's done."