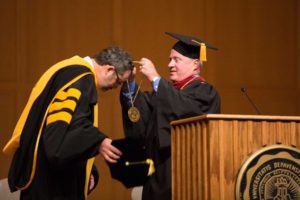 Four months into his presidency, Mark McCoy was officially inaugurated as the 20th president of DePauw University on Saturday, saying he wants to do "good and noble work."
In a ceremony that was more a history of DePauw, keynote speaker Vernon Jordan, '57 brought many people to tears in Kresge Auditorium. The civil rights activist and advisor to former U.S. President, Bill Clinton, connected his experiences as a student at DePauw during the 1950s to present day events.
"Dr. McCoy, you are no stranger to DePauw," Jordan said. "My hope is that you will lead this institution in such a way that DePauw students will exercise their moral power."
In 1953, when Jordan came to DePauw, he was one of five African American students. "While I came here to learn political science and history, it was also an opportunity to learn about people I did not know and people who did not know me," Jordan said. "While I learned a lot here I also taught a lot just by the fact of my very presence."
Jordan, who grew up in segregated Georgia, discovered he would be living with two white roommates for the entirety of the school year. After living with each other for some time, they admitted their realization that Jordan was just the same as they were. This was one of the many transformational moments at DePauw for Jordan.
"I love this place because DePauw prepared me to live the life I have been blessed to live. I had made DePauw a second home and even though it was not always easy, I received an excellent education here," he said.
Casting a half century's glance, Jordan noted: "Today's DePauw is more diverse, more open, more in tune with what America is and can become. And whether it is on this campus or across this country, we have seen so much progress since I was a student here."
Jordan concluded by calling for national unity.
"It is up to all of us to ensure that progress continues," Jordan said, "But I believe that we can rise up and transform, that we can come together and clear the rumble not to make America great again, but to make America greater than it has ever been before."
Jordan's speech prompted a standing ovation.
McCoy followed with his inaugural remarks, focusing on advancing the University through each student's experience. "DePauw is most importantly our people," McCoy said. "We are DePauw and it is up to us to strive toward the ideal DePauw."
He gave examples of faculty and staff to prove their dedication. McCoy emphasized the University's drive to improve itself. "DePauw has been a beacon of hope, an opportunity that has changed countless lives and continues to change lives every day and our good and important work will never finish," McCoy said.
Throughout the ceremony many other DePauw voices were heard. DePauw graduate and chair of the Board of Trustees, Marshall Reavis '84, began the inauguration by welcoming everyone to the event. "This is indeed a great moment for our university," Reavis said.
In addition to these two major speeches, several representatives from multiple communities such as the town of Greencastle, the faculty and staff, the board of trustees, and students spoke about everything from the University's founding to its present day.
Notably, Professor Mac Dixon-Fyle spoke briefly about the relationship between the President and the faculty. "We will appear to delight in spawning new controversies for you to handle, but do not for one moment doubt that we [the faculty] want a better DePauw," said Dixon-Fyle."You might think that we relish combat with you at every opportunity but we are far too busy to indulge in that."
The inauguration ceremony ended with most Kresge auditorium standing to sing, emphatically, "A Toast to DePauw" before the recessional.
Many people felt excited to have attended McCoy's inauguration.
"It was a really unique experience, partly because it's only the 20th time in 180 years that DePauw has had this ceremony and has had another University president," said Student Body President, Claire Halffield. "I think President McCoy said it best when he said the University was for the students, so I think it's cool to see that a new chapter of experience has been started."