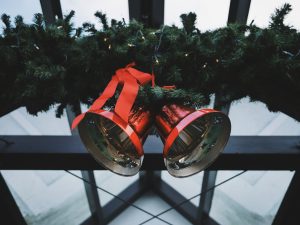 Drink some hot chocolate

: Run over to Walmart and grab yourself a pack of hot chocolate. And make sure you splurge and get some extras like marshmallows, candy canes, whipped cream, and chocolate sauce. Mix it in with your morning coffee to add a little extra holiday cheer to your day.

Make a Holiday music playlist

: There's so much great holiday music, so spend 15 minutes putting together your ideal holiday playlist. If you're looking for some holiday music, then look no further. My personal favorite album is "Merry Christmas Lil' Mama" by Chance the Rapper and Jeremih, which you can find for free on Soundcloud. A classic that is sure to get you in the mood is Michael Buble's Christmas Album, which is on most streaming services and his smooth voice and jazzy sound will get you in the spirit. And Ariana Grande has a few catchy holiday pop tunes. You can listen to her playlist "Christmas & Chill" on Spotify to get your fill of holiday pop songs. And when you have your ideal collection, listen to it on repeat all month and sing along loudly.

Bundle up and watch some holiday movies:

What would the holiday season be without some cheesy Hallmark Christmas movies? Grab your favorite blanket and your laptop and turn on a classic holiday movie. I adore the film "Love Actually," which you can find on Netflix, that takes the viewer through the adventures of many people during the holiday season. If you're basic like me and love Halloween too, check out the cross-holiday classic "The Nightmare Before Christmas," this holiday season. I plan on watching Netflix's the "Christmas Switch," because I heard it's very cute.

Plan a holiday celebration with your friends

: Shootout a text now to your friends and plan a celebration. You can even plan a fun game like White Elephant or Secret Friend, so everyone can leave with their own fun gift. Wear your most festive clothes and in true holiday spirit make sure you eat a bunch of food and drink eggnog. You're sure to enjoy a party no matter how small.

If you're religious, attend some of the services DePauw offers:

Always feel free to contact the Center for Spiritual life, but be sure to check out our article about the religious services that will be available on campus.

Surround yourself with people you care about

: Really at the end of the day what this season is about is making sure that you are around the people you care about. Instead of just succumbing to the cold outside, warm your heart with your friends, family or significant others, whoever makes you happiest. Embrace your support system, and enjoy yourself!