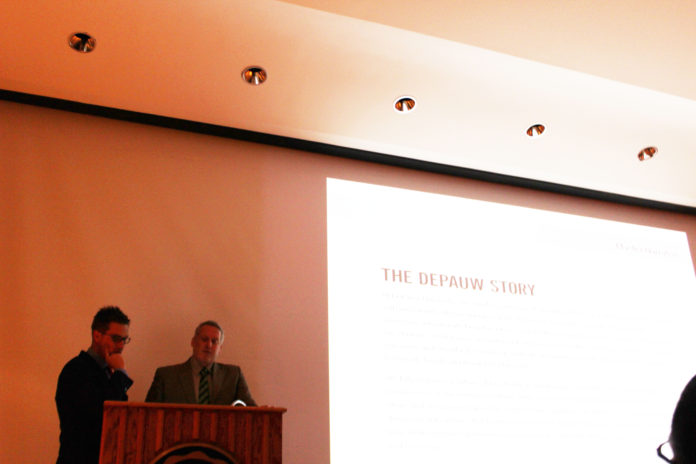 After assessing DePauw, Dartlet, a reputation strategy company, announced the University's perceived personality traits and the personality DePauw should strive to embody in order to effectively communicate to the market in their reveal on Feb. 16.
    "We give you this, we give you blue [leader], green [discoverer/transformer], and yellow [creator]. These are very complimentary, and they work very well together," said Tyler Borders, co-founder of Dartlet. "You got a leader who is pioneering and trailblazing in a pioneer fashion, which is really important for you, and you're a transformer–innovative, intelligent. This is how we offer you to tell your story."
    Additionally, Dartlet provided findings of DePauw's personality on an average and ideal day that they found in their workshops with students and faculty to assess the personality. On an average day, DePauw typically sees itself as an explorer/discoverer, a guide, creator, and leader. On an ideal day, the University sees itself as an innovator, leader, trailblazer, and explorer.
    When discussing DePauw's perception in the marketplace, Dartlet concluded that not a lot of people know the University in its major market places based on polling. "You're the best liberal arts school in the state and not everyone knows it," said Scott Ochander, co-founder of Dartlet.
    In DePauw's four main recruiting areas, Indianapolis, Fort Wayne, IN, Chicago, IL and St. Louis, MO it was found that 43 percent of people polled had zero familiarity with DePauw. "It gets a little better when you think about radius. In Indianapolis, it's only 20 percent [unfamiliar with DePauw], so one in five people in Indy have zero familiarity," Borders said. However, people in between 18-24 years old were only 15 percent unfamiliar. It was then stated that 62 percent of people in St. Louis did not know DePauw.
    Following the reveal of DePauw's aspirational personality, Ochander discussed critical next steps for the University to take in order to present itself better to the marketplace.
    "When we look at the comprehensive nature of what we've uncovered here, number one is that you have to fix your awareness levels. That 43 percent across the markets, those numbers are not good. It was probably the most surprising thing for a school of this caliber to have those awareness numbers not really reflect them," Ochander said. "Then, right now you're fragmented. Your authentic expression of self needs to be applied. Your number one idea, green, is the least known [trait] by the market. We've got to take some action on that."
    Along with concerns of name recognition, the administration sought help from Dartlet to get a better understanding of DePauw's personality. "People over and over said we need to know who we are. We need to stand for who we are. We need to have a clearer identity, and we need to have a clearer identity in the market, so that's what prompted this work," said President Mark McCoy.
    Additionally, President McCoy announced that he thought the reaction to Dartlet's personality reveal were positive, but acknowledged constraints. "The reception that I've gotten has been positive, but of course, any effort is not going to be the perfect effort for every person. I think that there are those that are less than enthusiastic about any marketing strategy," President McCoy said. "However, what I have heard from those that have responded so far has been uniformly positive. People are feeling that because they've listened to us . . . that this is authentically us."
    In its marketing strategy going forward, DePauw will more streamline its outward communications. "There's a complete marketing plan that we're embarking on to do digital work, to do digital advertising, a new website, to doing billboards, to doing mailers, the whole bit," President McCoy said.
    Nevertheless, Ochander conceded that it's ultimately up to the students for DePauw to aspire to its personality traits of leader, discoverer and creator.
    "One of the things that is the hallmark of a successful project is ultimately long-term is if the students embrace the ideas expressed in the personality," Ochander said. "I'd say there's a lot of engagement and pride in DePauw, but there's little pride in the institution. People seem extraordinarily connected to the institution, but they just don't really show it."